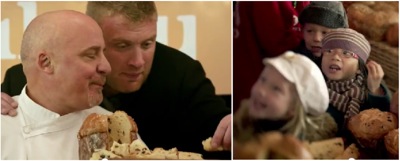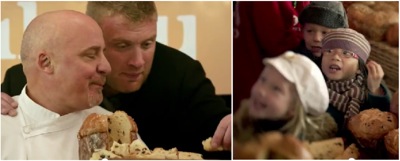 Every Christmas the UK's major supermarkets try to outdo each other with high-budget seasonal TV commercials.  One of this year's ads, oddly enough, contains a fleeting moment of phonetic coaching.
The TV face of the Morrisons supermarket chain is retired cricketer Freddie Flintoff, whose Lancashire accent fits the store's down-to-earth North-of-England image.  (Morrisons is actually a Yorkshire firm, but the two counties' historic rivalry clearly matters less than the fact that most Brits perceive the North of England as a single cultural and phonetic entity.)
According to Morrisons' website, their 2011 Christmas ad
shows Freddie and his team of helpers transforming the empty market square [of Kingston upon Thames] into a bustling festive haven.  The advert follows Freddie as he helps set up the stalls, decorate the Christmas tree and sample the delicious festive banquet.
Tasting assorted tidbits from the stalls, Flintoff tells us that customers will "come for the fresh British turkey… they'll come for the Stilton… they'll come for the panettone…"  At which point he's interrupted by Italian chef Aldo Zilli and a chorus of children, correcting his pronunciation with the chant "pa–net–to–ne!"


The odd thing from a phonetic point of view is that Flintoff should be chided emphatically after producing such a good approximation to the Italian.  His short and affricated [ts] differs from the original's long, unaspirated [tt], and he has un-Italian vowel reduction in the second syllable.  But otherwise he's pretty close: little aspiration on the [p], a central [a], a monophthongal [oo] and a final middish monophthong [ɪ/e]. Here it is, just for fun, with a digitally improved [tt]:


A Standard Southern British (SB) panettone, of course, would be no better in the consonants – less affrication but more aspiration – and considerably worse in the vowels.
Italian has a natural vowel system, in the technical sense of occurring commonly across the world's languages. By contrast the SSB vowel system is pretty weird; traditional RP's was even more so. We often find greater naturalness in Britain's regional accents, and where this is true it tends to make them a better starting-point for pronouncing other languages.  Flintoff's Lancashire English certainly has the edge over SSB when it comes to saying panettone, Italian style.
If the face of Morrisons had been a SSB speaker, I doubt that their advertisers would have scripted and filmed the public mockery of his or her (less accurate) Italian.  And the erroneous assumption that Lancastrian Italian must be bad Italian is apparently shared by viewers: reactions on Twitter include the following:
Watching Flintoff trying to pronounce 'panettone' is wonderfully comic

Why don't Morrisons advertise their panettone with someone who can actually pronounce it. Pannettawwwwwneh.
Of course the producers of TV ads and the bulk of the viewing public are not phoneticians.  But given that an idiomatic Italian rendition of panettone immediately follows Flintoff's, one might have expected someone to notice the similarity, during the shoot, or the edit, or the ad's broadcast shelf-life.  Apparently not.
In my previous post I suggested that British speakers are no longer susceptible to feelings of phonetic inferiority strong enough to motivate RP-centric hypercorrection. Things have clearly changed since the days of "refayned" English, when TV ads rarely featured anything but RP – nowadays UK supermarkets would be rather unlikely to choose an SSB celebrity to represent them.  Flintoff seems comfortable in his phonetic skin, no doubt aware that his non-standard accent was probably a major factor in winning him this advertising deal.
Nonetheless there still seems to be a general assumption that, when it comes to something as sophisticated as pronouncing Italian, provincials will be hindered rather than helped by their accent – an assumption strong enough to overpower the evidence of the ears.
https://www.englishspeechservices.com/wp-content/uploads/2011/12/panettone.jpg
161
400
Geoff Lindsey
https://www.englishspeechservices.com/wp-content/uploads/2022/06/website-header-triangle.png
Geoff Lindsey
2011-12-21 00:18:50
2022-08-22 15:33:14
Pannettawwwwwneh