•   Enhance your spoken English   •   Sound more like a native   •   Develop your confidence and control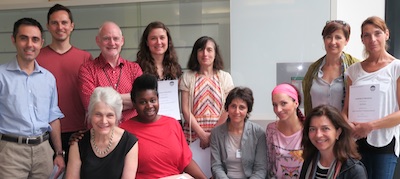 I give short courses and workshops on enhanced spoken English for professionals and students around the world. As my testimonials indicate, they are fun and inspiring, giving practical and effective results, with lots of individual feedback on participants' spoken English. Courses are highly flexible, ranging from half-day workshops to week-long courses, so please contact me to see how I can enhance spoken English for you and your employees, members co-workers or students.
Every course includes:
• ear training and speaking practice
• analytic listening to recorded native speech
• individualized tips for future practice
I have designed bespoke courses for:
• civil servants
• conference interpreters
• financial services workers
• single-language groups
Topics covered:
• English intonation
• word-linking and English rhythm
• differences between spoken & written English
• features of contemporary English
• adapting to native and non-native listeners
• SMART techniques for speaking practice
• online resources
It was EXCELLENT. The best training course I have attended (and I have attended many).
Prof. Andrejs Veisbergs
Head of Translation and Interpreting Dept, University of Latvia
We have never seen such an amazing response. Nearly 100% say that the training completely exceeded their expectations.
Brilliant! I was especially interested in how sounds can connect without interrupting the flow of the language… The precision and playfulness in how Geoff made us execute tasks gave amazing results.
Helen Lepalaan
opera singer & singing teacher
Geoff Lindsey's workshops are an electrifying experience. Don't miss the magic moments of concentration and exhilaration.
Prof. Masanori Toyota
Emeritus, Kyoto & Kansai Gaidai Universities, Japan
A hugely insightful course! Geoff Lindsey deconstructs some false premises and fills some glaring gaps at the very basis of international English language teaching.
Arvydas Okas
Okas Language Solutions
#parasite #pronunciation p á r ə s ɑj t • ˈpærəsaɪt • PARR-uh-syt https://t.co/xip49J1Ocr
#Moriarty #pronunciation m ɔ́ r ɪj ɑ́ː t ɪj • ˌmɒriːˈɑːtiː • MORR-ee-AA-tee https://t.co/LpvOmla7zB
Load More...